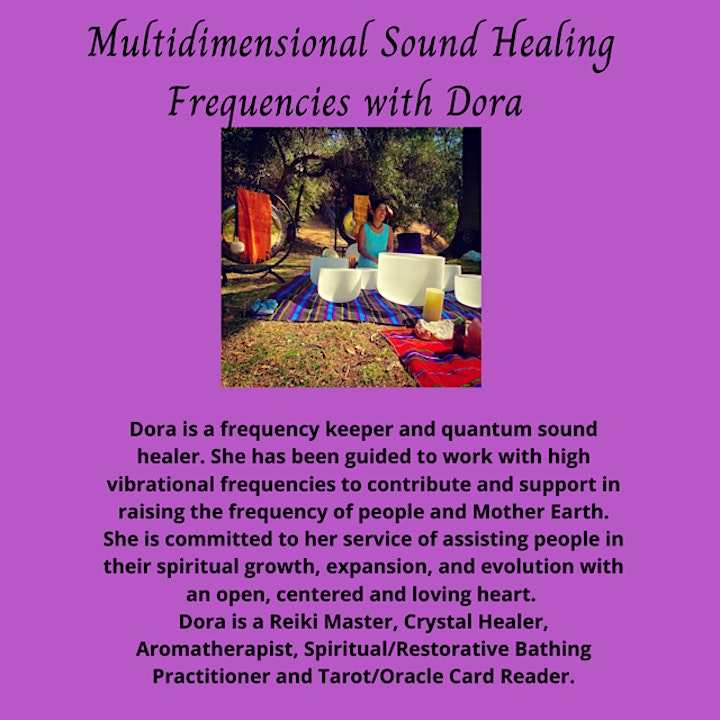 MULTIDIMENSIONAL SOUND HEALING FREQUENCIES with DORA
THURSDAY, DECEMBER 9TH | 7 – 8:30 PM | $30 EARLY BIRD, $35 DAY OF
Sound is a form of healing modality and as a form of therapy has received constant revival the last decades, gaining more and more acknowledgments from scientists, and popularity among people of all ages and backgrounds.
Sound can have profound effects on our health and wellbeing on a cellular level, whether we actively play an instrument, move to the beat of the music or receive beneficial frequencies in a passive way. A sound bath is a way of therapy with a specific use of frequencies to promote healing and balance. It addresses various planes of our existence, from physical to the emotional and spiritual level, by using different instruments, sometimes including the voice. In a way it helps us to be more "in tune' with ourselves and "in sync" with the natural laws, structure, and order of the cosmos.
A sound bath relaxes you, and at the same time helps you to find stillness and a deep rest. A sound bath is therapeutic, transformative and restorative.
ABOUT DORA
Dora is a frequency keeper and quantum sound healer. She has been guided to work with high vibrational frequencies to contribute and support in raising the frequency of people and Mother Earth. She is committed to her service of assisting people in their spiritual growth, expansion, and evolution with an open, centered and loving heart. Dora is a Reiki Master, Crystal Healer, Aromatherapist, Spiritual/Restorative Bathing Practitioner and Tarot/Oracle Card Reader. She lives in Los Angeles area.
"Dora is full of love and her light shines through her sound bath sessions. During my sound bath session with her, I felt my chakras come alive with sparks of energy traveling up and down my body. Up to the heavens and back down to the ground, my body acting as a bridge between both. Her array of singing bowls and drums is impressive! The sound of Jupiter and Venus gongs reverberated through my body, especially around my shoulder, which felt amazing. If you are looking to cleanse and clear your chakras and let go of what doesn't serve you and call what does, then I would highly recommend that you book a session with her."
~Angela Smith
'I'd love to thank Dora for her lovely and healing session. Dora is a sound healer. I didn't tell her I was in pain. I relaxed so much I actually fell asleep, and she gently almost waited 10 min for me to wake up again after she was finished. I woke up without pain!
Dora stayed with me and continued to send healing without expectations. Dora has a beautiful gentle presence, I highly recommend her sound healing!!!"
With gratitude, Deb
"So grateful I got to do an amazing sound-bath at the park this morning. I came upon Dora's set up and I thought I was seeing a mirage. This awesome woman does amazing sound healing, what a treat!
If you're in Los Angeles area and need some healing, give her a follow @dora.nolasco.9"
Kelly B.