LET'S TALK ABOUT SEX with the Hosts of Clit Talk!
SATURDAY, APRIL 16TH | 7 – 8 PM | $22
"Let's talk about sex!" Seriously. When do you ever get to talk openly about sex? This is a very special experience for you with the host's of the Clit Talk Podcast. Clit Talk is a pleasure positive podcast who provide sex edutainment. No topic is too taboo. With over 200 episodes they have had doctors, authors, sex workers and even household name celebrities like Fran Dresher on the show. Their mission is to empower everyone around pleasure, to normalize taboo conversations about sexuality, and to spread the message of gender harmony to the masses.
In this 60 minute workshop, you will experience a few of our sexiest techniques for tapping into your sex center intuition, embracing your body, reveal a confession and ask ANYTHING opportunity with the ladies of Clit Talk Podcast.
This is the ultimate happy hour where your turn on is the cocktail.
Ready to get buzzed from YOUR pleasure?
Welcome Party & Euphoric Movement: RAISE YOUR VIBRATION in community as we break the ice and get you out of your head and into your body to prime you for a night of liberation!
Give Your Sex Center a Voice: RELEASE what's holding you back from expressing your hearing your deepest intuition in your ROOT. Whether we know it or not we are to some degree disconnected from our pussys and our cocks and this is limiting our natural abilities to manifest. Why???? Because our sexual energy is manifestation energy.
Questions & Confessions: UNLEASH your voice to explore and experience new forms of sensual connection through communication. This is one of our favorite segments on Clit Talk podcast where our Cliterati ask us ANYTHING. WE. MEAN. IT. Come with your questions and any bedroom confessions that have been bottled up inside. You'll be amazed how being witnessed by a group of sex positive people can empower and liberate you in all areas of life.
Acknowledgement Exercise: EXPAND your skills in the bedroom to whole new realms. Learn and experience Clit Talks top Communication exercise for deepening love and trust for any kind of relationships. This is one of the core practices taught in Clit Talk's Signature Masterclass that has made the biggest difference in people's lives.
After Hang – Hangout with the Cast of Clit Talk, get to know your fellow Cliterati and new pleasure positive community!
CONNECT WITH YOUR HOSTS:
IG: @clittalkshow
MEET YOUR FACILITATORS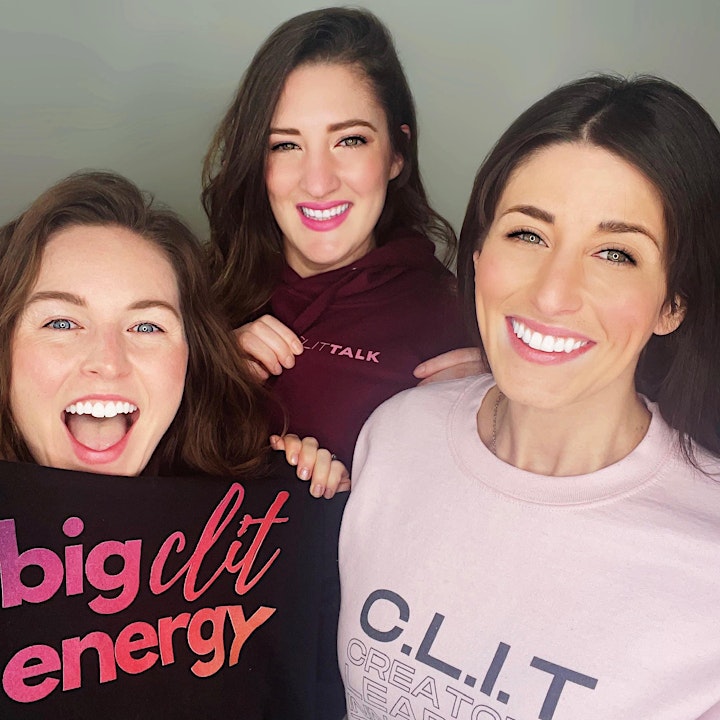 The Hosts of Clit Talk – Katie, Lindsey & Madison (A.K.A. Sugar)
Living a pleasure positive lifestyle is Clit Talk's expertise. As the hosts of Clit Talk – Lindsey, Katie, and Sugar – have spent the last 200+ episodes interviewing everyone from doctors, sexperts, celebrities and even porn stars. The girls next door go out, try all the boundary-pushing sexcapades, confronting and disrupting their shame, then hop on the air to tell all the gritty details. They will try almost anything ONCE. Like getting pregnant at a sex party… #truestory. After 4 successful years of a top rated sexuality podcast now as Sex & Empowerment Communication Coaches, they have launched their very own, Sex & Empowerment Signature Masterclass: A roadmap to regain self-love, harness your true voice, and live a turned on life.