INTUITION – THE SOUL SPEAKS.
Attune to your body's wisdom and quiet the toxic chatter in your mind.
SATURDAY, JULY 29TH | 7PM | $35 EARLY BIRD, $45 DAY OF
This workshop is inspired by the folktale "Vasilisa the Beautiful". A story full of symbology about a woman's retrieval of her intuition, where an exploited young woman is sent out into the forest to search for fire and finds herself facing a powerful witch with the help of a little doll. Intuition is the Soul's self-preservation, and a key element for integration. But where does it come from? How does it communicate with you? How can you become more attuned to it? We will explore these and other questions through symbols, movement, drawing, self-reflective writing, and Modern Meditation. This powerful story, that I will share in detail, will guide us through a deep dive into the instinctive world to help you attune to your body's wisdom and recover your power of self-trust and self-guidance.
We will explore our own mythologies, identify the voices in our psyches that blocks us and drive us into unhealthy social and self-dynamics, and learn to apply the tale's wisdom into our lives.
*All women-identifying, non-binary, and gender-fluid folks are welcome.
What you'll bring:
Notebook and pen.
An object that holds personal meaning. Ideally, this object belonged to an older woman before you (mother, grandmother, aunt – someone important to you). If that is not an option, anything meaningful to you is okay. Small is preferred.
An outfit that makes you feel sensual, wild, and powerful! (think comfort here so that you can move freely)
Drawing paper and crayons will be provided.
No previous experience with any of the art modalities or meditation is necessary.
Each workshop can be taken individually, but because they were designed as a program to build upon each other, completion of all three will integrate and potentiate the learnings and effects of the work.
"I designed a program for women to explore their relationships with their bodies, challenge the narratives the patriarchy feeds us from birth, retrieve their intuition, and reconnect with their desires to live the life they want with authenticity and confidence. I am excited to offer this in person and as a group. I believe it is urgent that we come together to empower each other and see the strength in ourselves through one another.
The workshops were designed to build upon one another. We begin with the body, our home, and the thing that allows us to experience life. We reflect on our challenges and work to resource ourselves to move from expectations and preoccupation with appearance into embodiment and pleasure. It is about how we feel rather than how we look, so we explore why we feel what we feel. Then, we learn about the memories our bodies hold and how to get in touch with them, exploring intuition. Once we have learned to listen, we will ask ourselves what we really want and explore what keeps us from honoring our desires and how to transform that. By the end of the three workshops, my intention is that participants feel more comfortable inside their bodies, more attuned to how it communicates, and have gained clarity, a sense of self-trust and self guidance, which will help them go after their dreams with full potency! " – Ana Liz
CONNECT WITH ANA LIZ
https://www.embodiedcreatures.com
IG: @analizceregatti
ABOUT ANA LIZ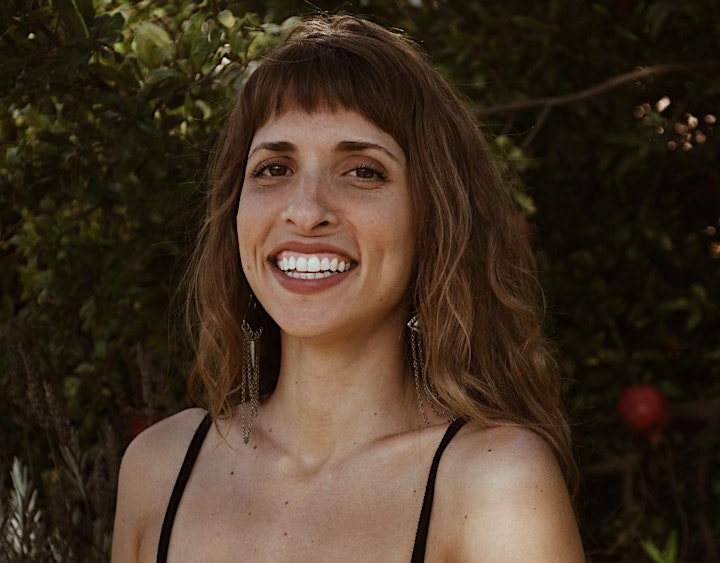 Ana Liz (she/her) is a Latina woman from Brazil, based in Los Angeles since 2016. She is a Healing Artist, Somatic Practitioner, and Meditation & Mindfulness Teacher (IMMA / CPD).
With a trauma-informed approach, Ana mentors women and queer folks to enter and inhabit their bodies consciously to access the depths of their psychological and emotional processes, and, through the body and creative expression, heal and create positive change.