FULL MOON REIKI CIRCLE with SARAH TAYLOR
NEW DATE! FRIDAY MARCH 18TH | 7 – 8:30 PM | $35 EARLY BIRD, $40 DAY OF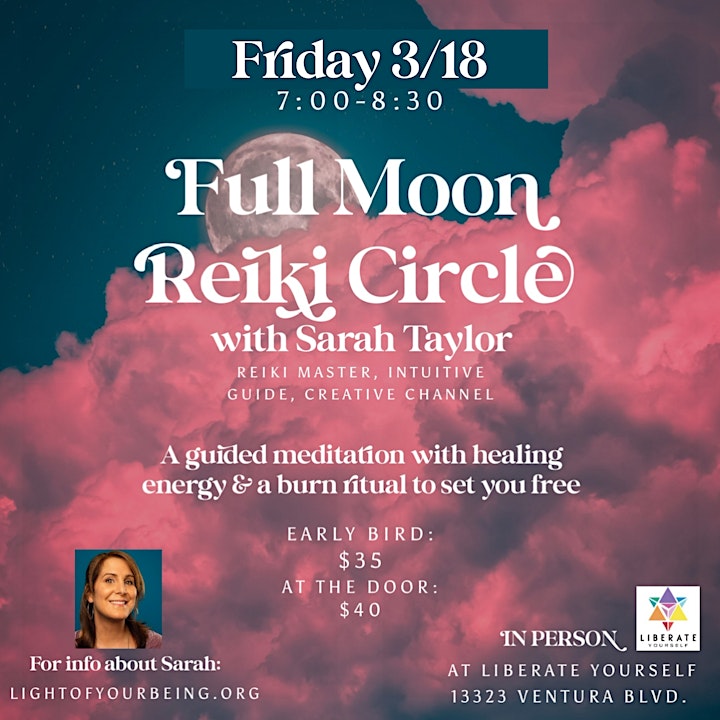 The Full Moon has always been a powerful time to release what no longer serves, and for setting a sacred intention. We will explore a contemplative topic fitting to the current planetary energies, and dive in to a guided meditation journey with a healing energy transmission. There will be a burn ritual for release as well!
The transmission is one of awake presence, love, and support for deeper alignment on your path — with a little help from la luna and messages from the Guides! It is a potent boost in honor of your inherent wholeness that can help clear, empower, and support you.
ABOUT SARAH
Sarah Taylor is a stand-up comedian and actor and has been a Reiki Master energy healer, intuitive spiritual guide, and teacher for over ten years. After undergoing a series of profound and radical inner shifts known as non-dual awakening, today she is an expressive channel for the truth of our being. She shares through performances, talks, and group events that support spiritual unfoldment, healing, thriving, and the recognition of the truth of our shared humanity and spirit. An intuitive who works with High Guides, she shares messages about our spiritual evolution, while being an irreverent and mischievous spark helping you align with your Soul blueprint. She's been featured on the popular Buddha At The Gas Pump and has given a TEDx talk on meditation.
For more information: www.LightOfYourBeing.org