Though most travelers opt for an unconscious visit to "The Big Easy" with heavy drinking and heavy food, there's an abundance of offerings to inspire, nourish and uplift the conscious traveler. The unique alchemy of French, African, Filipino, and American influences makes New Orleans rich in culture. While the arts and music scenes have always been vibrant, the emergent film industry has brought more plant-based and regenerative-farmed food to the scene.
Here are our favorite places to enjoy New Orleans:
---
Movement & Wellness
NOLA Bliss Massage
This was my first time trying "ashi," a massage done with bare feet instead of the hands. The modality combines elements of Thai Massage, Japanese Shiatsu, and India's Keralite massage. Highly recommend the experience for those who want both a deep tissue massage and relaxing experience.
Wild Lotus Yoga
Bhakti Fest regular Sean Johnson & The Wild Lotus Band's studio is a community-centered space which offers teacher trainings, kirtan, breathwork, music, and joyful yoga classes.
Swan River Yoga
After Hurricane Katrina ravaged New Orleans, Keith Porteous and Michelle Baker created Swan River Yoga to bring together & heal the community. Many classes run the traditional 90 minutes.
Romney Studios
A light & bright wellness center offering spin, gyrotonics, megaformers, bounce, barre & yoga.
New Orleans Athletic Club
The 3rd oldest health club in the USA, NOAC has been around since 1872. It houses a library, exercise rooms, pool, half court basketball, spin room, yoga, machine and free weights, wally ball, racquet ball, and handball.
---
The Arts
Studio Be
A space for artists & their creations, Studio BE is a modern space celebrating Black art.
Besthoff Sculpture Garden
64 sculptures and magnolia trees make this sculpture garden a magical place to explore or do yoga.
Callan Contemporary
An excellent commercial gallery with a huge space and refined curation.
---
Music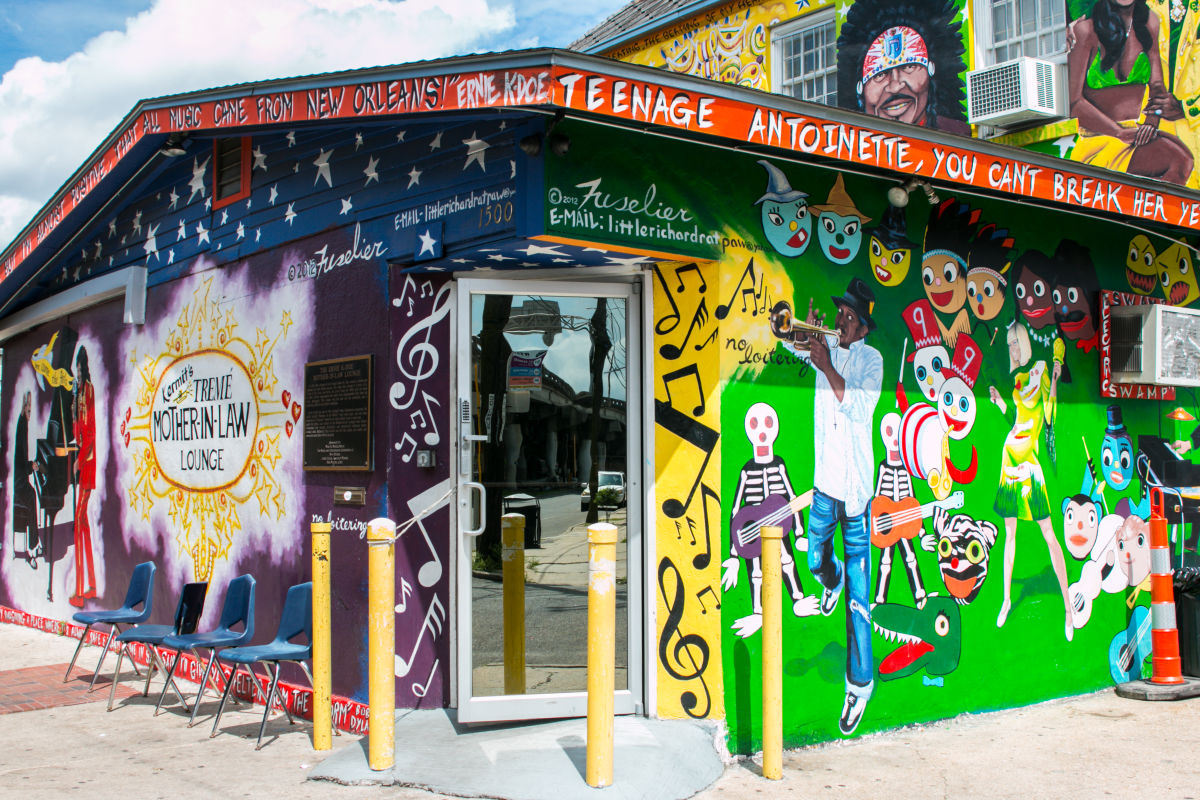 Kermit's Treme Mother-In-Law Lounge
A historical icon & living shrine to New Orleans' 7th Ward, a historically Black neighborhood. This live music venue was re-opened a year after Hurricane Katrina and has been serving up music & soul food since.
Second Line Parades
The quintessential New Orleans music, Second Line parades are high energy parades of music, dance, and costumes by and for the Black community of New Orleans. The parades welcome everyone while celebrating and strengthening the culture.
Preservation Hall
This French Quarter institution is a center of jazz and civil rights. Even during the Jim Crow era, racially-integrated bands and audiences gathered to play and enjoy music together. It still hosts some of the finest jazz musicians in the country.
---
Where to Stay
Loft 523
The large rooms are minimal perfection, with gorgeous lighting, divine bathtubs, and thick brick walls to keep out unwanted noise. Located walking distance to the French Quarter in the CBD where the streets are clean and quiet.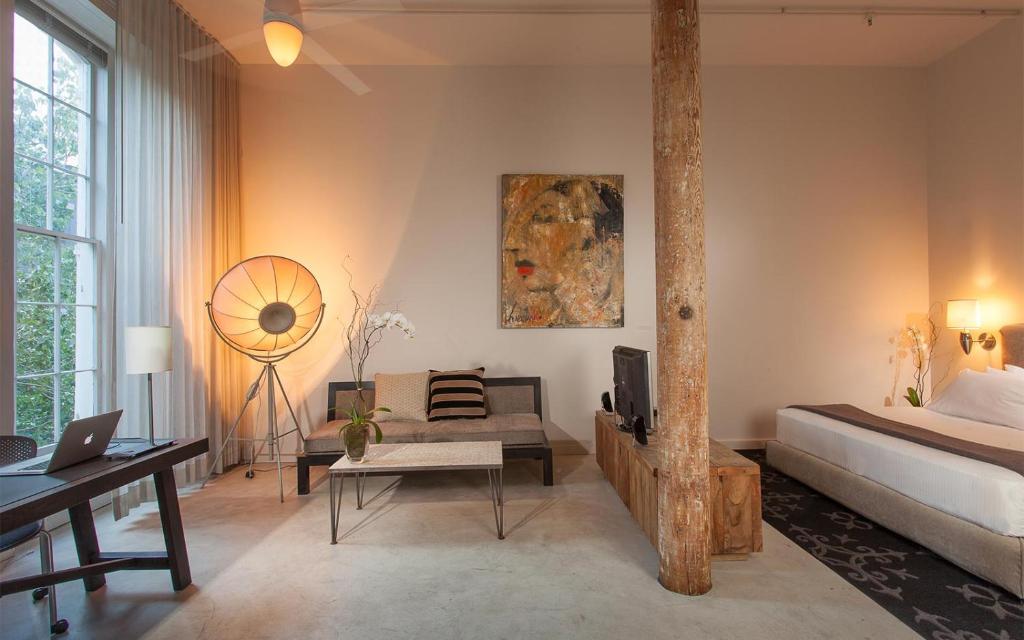 Hotel Peter & Paul
A restored 1860s church has been transformed into a vintage haven with individually designed rooms. Located in the equally hip Faubourg Marigny district.
Ace Hotel
Yes it's a chain, but this Warehouse District hotel welcomes pets, has excellent live music and DJs, and its rooftop bar is wonderful place to keep cool in the heat.
---
Where to Eat
Carmo
Catering to raw vegans, vegans, vegetarians, omnivores, and gluten-free diners, this tropical cafe regularly makes best-of lists.
Bear Cat
The best brunch I've had in ages, this spot was worth the long line to get a table. They have ample vegan and gluten-free options, and the bets kombucha I've ever tasted.
Mais Arepas
Columbian dining with a focus on ethical and locally-sourced produce. Try the sampler plate to get the full experience.
Botanicals NOLA
All-vegan and big on sea moss, Botanicals serves juices, smoothies & a small selection of breakfast-friendly foods.
Atchafalaya Restaurant
Herb boxes outside this Creole cottage welcome you into a lively restaurant with exceptional brunches and live music.
Flour Moon Bagels
This gorgeous woman-owned bagel shop serves NYC style bagels.
---
Conscious Shopping
Magazine Street
Along this 6-mile shopping street, you'll find well-curated vintage stores, Asian eateries, and unique New Orleans shops.
The Mask Gallery
New Orleans loves to dress up in costume for its many parades and Halloween celebrations. To join in, get a handmade leather mask (owls, lions, skulls… you name it) from this French Quarter spot.
---
Nature
Honey Island Swamp
70,000 acres of swamp, alligators, and gorgeous cypress trees. Take a small boat tour to get close to the diverse wildlife.
Paradigm Gardens
An urban farm which produces produce for many of the city's best restaurants, these gardens also host events.
---
Events to Nourish Your Soul